Post by J'Ali on Apr 24, 2014 15:12:25 GMT -5
OOC Information
Your Name: Peter Smith
Best way to contact you: I prefer PMs on the board
How you found L.A.W.: Roughkut, I might be wrong since I have forgotten, lol.
Wrestler Information:
Name: Eryn Tyme
Nickname(s): The Celtic Princess & The Mistress of Time
Gimmick: The leader of this trio who does all the talking. She is, by far, the smallest of the group yet her speed - and relative unpredictability - in the ring makes up the lack of size. Eryn's Irish accent is extremely thick and is as clear as day whenever she speaks. She is relatively proud of her Irish upbringing, even learning moves that her wrestling icons have done before, but doesn't comment much about it. She calls her the "Mistrss of Time" and has complete control over her two followers, to a point that they'll never question her judgement or disobey her orders.
Whenever the three at attacking somebody Eryn will stay back and watch her two followers (Angelina Goodnight and Alice Daylight) decimate that person before dragging them up to their feet. She whipser the some words in Gaelic before flattening them with a jumping neckbreaker slam. When watching her two followers compete in a tag team match she'll be sitting on the floor, in a lotus position, with a clock resting on her lap. Whenever she decides that her duo should go for the EoT Eryn will stand up and point the index finger of one hand towards the victim while raising the clock up with the other.
While her followers intend to intimidate their opponents through size and power, Eryn battles completely differently. In some of her matches she'll flirt with her opponent while in others she'll try to hurt the opponent beyond belief and in some matches she'll even show signs of pure enjoyment when hit by her opponent. One thing that is consistent throughout her matches however is that at any random point in the match both of her hands will fly back and give her bottom a smack. It is uncertain if this is to motivate herself or not, but it defnitely gets a reaction out of the men (as well as any lesbians) in attendance as these can happen a various amount of times duing a match, often once but in a few matches it can happen more times.
Pic Base: Taeler Conrad-Mellen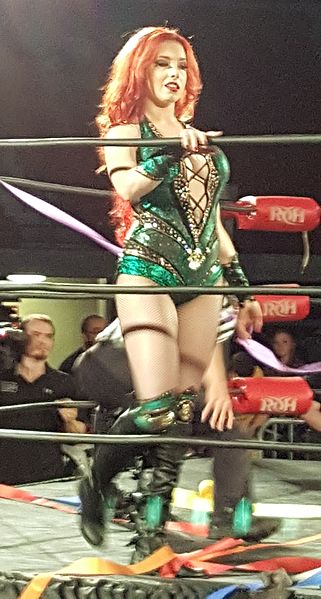 Height: 5'5
Weight: 118 lb
Hometown: Bray, Ireland
Theme Music: "The End" by Roadrunner United
Common Entrance: Look at the stable contract for the entrance
Alignment: Heel
10-15 Common Moves:
1. McIntyre Roll (Victory roll) - used in tribute of Velvet McIntyre
2. Snapmare, followed by a shoot kick to the back of the opponent
3. Over the top rope suicide dive
4. Running seated senton - used in tribute of Fit Finlay
5. Irish Curse (Side slam backbreaker) - used in tribute of Sheamus
6. Multiple forearm clubs to a rope hung opponent's chest - used in tribute of Sheamus
7. Standing dropkick
8. Multiple suplex variations
- Northern Lights superplex
- Northern Lights Suplex
- Snap suplex
- Superplex
9. Superkick, sometimes to a kneeling or seated opponent
10. Enzuigiri
11. Sitout jawbreaker
12. Cartwheel over the top rope suicide moonsault (
example
)
13. Cartwheel over the top rope suicide corkscrew senton (
example
)
Trademark Moves: (3 Max With Descriptions or Video links)
1. Jumping neckbreaker slam - occasionally used as a finisher
2. Sun Lock (Double leg muta lock)
3. Moon Blast (Running jumping butt bump)
Finisher: (2 Max with Descriptions or Video Links)
1. Desolation of Time (Standing moonsault with booty shaking theatrics)
Manager Information: (If you don't have a manager, leave it blank)
Manager Name: Angelina Goodnight & Alice Daylight
Manager Pic Base: Look at their respective contract.