Post by The Circle Television Network on Sept 26, 2016 12:08:57 GMT -5
CTN INSIDER MAGAZINE
March 2016 Issue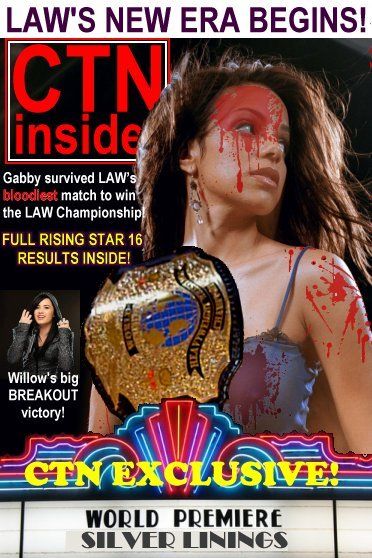 Features

"Army Strong" Gabby Camacho: Page 38
After 15 long months Gabby finally has LAW gold around her waist again! After what was arguably the bloodiest and most brutal match in LAW history, she finally accomplished a feat that only one other woman in had managed to do…pin the shoulders of Oni Kymiku to the mat for the count of three! Now that she is has become champion, can she steer LAW towards a brighter path than the one set by its previous champion?


Taryn Willow: Page 5
Taryn Willow was anointed as a 'future champion' by the fans of LAW and she made that prediction a reality at Rising Stars 2016 when she managed to defeat Keira Fisher for the Breakout Championship! Keira's grip on that title had seemed unbreakable until Taryn managed to wrest it from her on Sunday night. Now, the sky is the limit for LAW's hottest new stars! With a new title and critical acclaim for her role in 'Silver Linings: The Nicky Silver Story' there is no holding her back!


Mackenzie Roberts: Page 15
Mackenzie Roberts entered Rising Stars against a white hot Christina Millar who seemed ready to finally get her hands on a LAW Championship. It seemed that 'The Silver Screen Queen' had the champ's number as the match progressed, but Mackenzie showed the world her toughness as she managed to overcome what looked like a serious injury to retain her title against a relentless foe! With a successful title defense behind her, she now has her eyes set to the future…a future that looks brighter by the day!


The Frienemies: Page 23
The Tag Team Champions, Amber Richards and Ana Valentine are ruling the tag team division, taking on all challengers in order to retain their titles. They managed to overcome a game challenge against the Naughty Girls at Rising Stars, putting down yet another contender to their belts. Who can defeat this destructive duo…if they can be defeated at all?!


Silver Linings: The Nicky Silver Story: Page 45
Silver Lining hit theaters just days before Rising Stars and the movie which featured several of LAW's brightest stars seems to be a critically acclaimed success despite mixed and bias reviews. Kenzi Grey headlined a cast that featured Brittany Williams, Ashley Marie Chase, Taryn Willow, Alex Yin, Alizé Platinum, and Teddy Williams. With the massive multimedia success enjoyed by these stars does this pave the way for similar success by other stars of LAW to showcase their talents outside the wrestling ring?


Plus Much More!!


- CTN Insider Centerfold -