Post by The Circle Television Network on Sept 26, 2016 12:31:07 GMT -5
CTN INSIDER MAGAZINE
May 2016 Issue II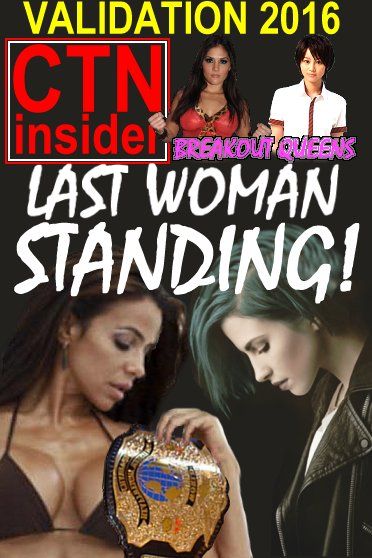 Features

Gabby Camacho: Page 34
She's Army Strong and she's hoping to extend her reign as LAW's premiere champion as she heads into Validation 2016 in a Last Woman Standing Match! Gabby has been a no-nonsense champion after being involved in a brutal war to win the title. There is no rest for the weary as she heads into Atlanta, Georgia looking to leave no doubt about who the toughest woman in the industry is!


Kate Steele: Page 4
Miss Ultraviolence dropped that nickname and is now the Siren of Submissions, but at LAW Validation 2016 she looks to reclaim a prior moniker; LAW Champion! Her storied rivalry with Gabby Camacho has transcended the ring, but it all comes to a head when they battle one another for the richest prize in the sport. The time for talk will be over and in the end, only one woman will be left standing!


Chacalita: Page 12
This Outlaw Vigilante hailing from "The Great Beyond" has been damn near unstoppable since rolling into LAW. She has hunted down the competition with ruthless abandon and executed her opponents with skill and precision. At Validation 2016 she finds herself up against a challenger that is just as skilled and merciless inside the ring as she is. Can Chacalita remain the Queen of the Breakouts in the face of her greatest threat?


Miyoko Oshiro: Page 20
Miyoko disappeared from LAW for a time before returning with a new and more dangerous persona. While not all view her change in attitude as a good one, you can't argue with success. Armed with a rich wrestling linage and a burning desire to destroy the competition…could we be looking at the next Breakout Champion?


Dazi Miyashita: Page 41
Dazi will be the final entrant into LAW's search for a permanent General Manager. Some say that she has an unfair advantage having hosted both the go home LAW event and a Pay-Per-View, but if you ask her, she'll tell you that those are the only two shows worthy of her considerable talent and skill (well, maybe she wouldn't say that, she's a bit more humble). Regardless of how she really feels, she has no reason to be humble about her amazing centerfold in this issue! See LAW's General Manager as few have seen her before!


Plus Much More!!


- CTN Insider Centerfold -