Post by The Circle Television Network on Nov 24, 2016 15:07:10 GMT -5
CTN INSIDER MAGAZINE
November 2016 Issue (Night of Glory #2)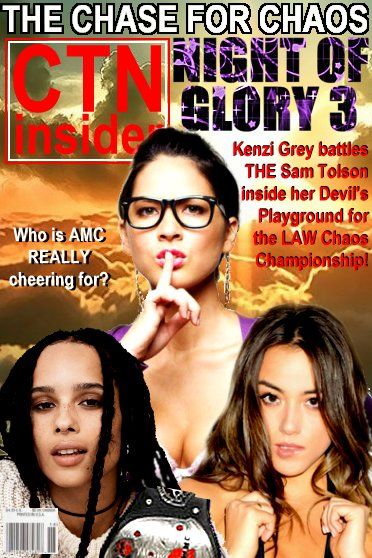 Features

Kenzi Grey: Page 35
Kenzi Grey has dreamed of nothing more than becoming a champion in LAW since the day Jenny Tuck, interim General Manager decreed that she would NEVER become a champion. Kenzi fought for months, managing to defeat some of the best in LAW until she was finally granted a chance at the Chaos Title at LAW Double Shot. Kenzi capitalized on that opportunity and became a proud champion, despite the naysayers and doubters! We chart Kenzi's unbelievable path to the Chaos Title…every opponent…every match!


Sam Tolson: Page 7
Sam Tolson has fought some of the biggest names in the business and won titles all over, so it came as no surprise when the woman 'who needs no gimmicks' won the LAW Chaos Championship. Sam proved herself to be a fighter, even managing to win the title back from Michelle Anxo at Queen of the Ring to become the first two-time champion! At Night of Glory, Sam Tolson looks to make history once more as she has an opportunity to win the title she 'built' for an unprecedented third time! We compare Sam to the other multi-time champions in LAW to see where she ranks against some of the best!


The AMC Connection: Page 13
Kenzi's friendship with AMC became strained during her championship run. When it seemed that Kenzi would not be allowed to break through the glass ceiling and get a championship opportunity, AMC became Kenzi's manager and used her knowledge of the business and LAW in order to get Kenzi her championship opportunity. It remains unclear if AMC knew that Kenzi would target her girlfriend's title, but what is clear is that Sam Tolson no longer trusts the woman she loves to remain impartial. Sam has demanded that AMC be locked in a box at ringside during her championship rematch against Kenzi Grey. We run down the greatest managers in wrestling history!


Evening the Odds: Page 27
Sam Tolson made it clear that the only reason she is no longer Chaos Champion is because of Kenzi's underhanded tactics. Members of the Kentourage were lying in wait for her and did the damage which Kenzi took advantage of to steal away her title. With nothing but revenge on her mind, Sam demanded a rematch inside a steel cage to keep Kenzi in and to keep her stable members out! With nowhere to run and nowhere to hide…does Kenzi even stand a chance against one of the best wrestlers on the planet? This match promises to be a bloody affair. We take a look at some of the most brutal matches of 2016!


Bobbi London: Centerfold
She is the muscle behind the Kentourage and this Sunday she faces her biggest challenge as she takes on Kate Steele inside the confines of a steel cage! While Night of Glory may prove to be a bloody affair, Bobbi is this issue's centerfold…and she's bloody good!

Plus Much More!!


- CTN Insider Centerfold -