Post by Jekyll & Hyde on Dec 29, 2016 14:12:56 GMT -5
OOC Information

Your Name: Ron
AIM: icona55a55in
MSN: a55a55in@hotmail.com
Yahoo: a55a55in226
ICQ: 49264726
Twitter: @sistershyde



How you found LAW: Current Member

---

WRESTLER INFORMATION

Karyn Hyde-Jekyll

GIMMICK

After years of separation from her mentally unbalanced twin sister, Karyn Jekyll is doing her best to establish a meaningful relationship with her to make up for their shattered past. Karyn continues her studies of mental health in the hopes of normalizing her sister's odd and oftentimes creepy behavior. The deeper she digs into the depths of her twin's madness the more she uncovers about her own…




HISTORY

Karyn and Jessika Hyde grew up together in Bishopsgate near London and by most accounts, their initial upbringing was normal. All of that changed when Jessika drowned after falling overboard during a family boating trip. Jessika was revived after being submerged for several minutes. Jessika languished in a coma for months and soon the cost of her treatment and other family difficulty led to the breakup of their family. Their mother would later move to the United States with Karyn while their father stayed with Jessika in England.

Nearly 20 years passed before the sisters would see one another again. Karyn was working towards a career inside the squared circle when she received word that her father had passed away and her sister, now a ward of Bethlam Royal Hospital was in no condition to settle his affairs. Karyn returned to England and reconnected with her sister, now brain damaged and child-like in her ways. Karyn began to delve into mental health studies in the hopes of helping her sister recover some of the broken threads of her mental tapestry…but the deeper Karyn digs, the less she likes…


---
CHARACTER APPEARANCE



Karyn is a young woman of average height and build. She is fair skinned with long brunette hair.


PICTURE BASE


Shannon Claire Spruill (Governor Palin/No Tattoos)

HEIGHT

5'6"

WEIGHT

136lbs


HOMETOWN

Erie, Pennsylvania by way of Bishopsgate, London

ENTRANCE VIDEO




THEME MUSIC

"Doctor Feelgood" by Motley Crue

COMMON ENTRANCE

"Doctor Feelgood" by Motley Crue begins to play. Karyn comes out and makes her way to the ring, slapping hands with the fans as she gets down to ringside. She climbs into the ring and waves to the fans from all four sides of the ring as she waits for her opponent.

ALIGNMENT

Face


---
WRESTLING MATCH PSYCHOLOGY

Karyn wrestles at a very slow and methodical pace, preferring the science of a mat based attack. She is highly skilled in reversals and submissions. She always strives to have a good clean match and will always offer her hand before and after the match is over.



WRESTLING MOVES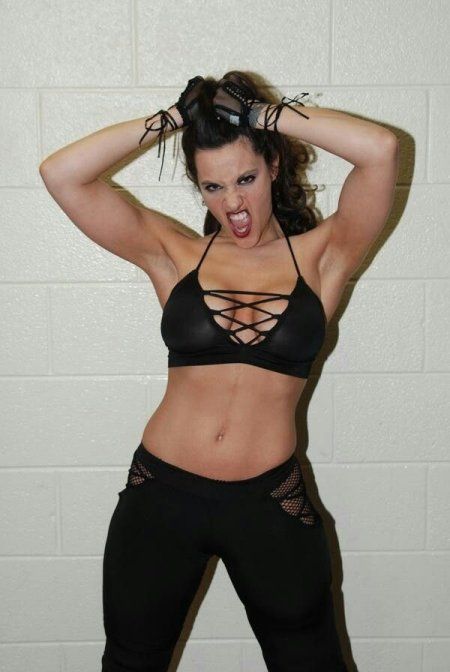 COMMON MOVES


Anklelock Submission Hold
Achilles Tendon Hold
Kneelock Submission
European Uppercut
Enzuigiri
Spinning Back Kick
Japanese Armbar Takedown
Firemans Carry
Tiger Suplex
Belly-to-Belly Suplex
Rolling Snap Suplexes
Superplex
Drop Toe Hold
Indian Deathlock
Snap DDT
Hurricanrana


TRADEMARK MOVES

Slingshot Elbow Drop
Northern Lights Suplex
Shining Wizard

FINISHERS

Straight Jacket
(Striaght Jacket Neckbreaker)



Lock Up
(Rolling Single Leg Boston Crab)