Post by The Circle Television Network on Jan 13, 2017 19:39:19 GMT -5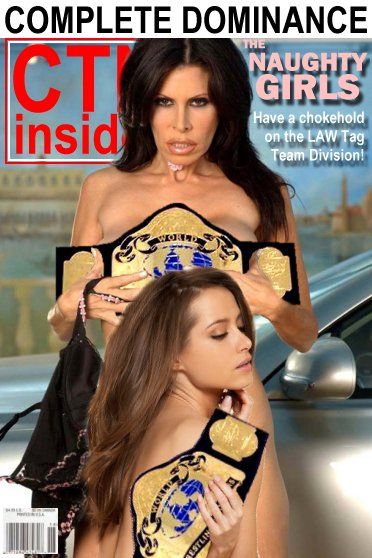 CTN INSIDER MAGAZINE interviews Katalina Star and Katie Klein, The Ladies All-Star Wrestling Tag Team Champions, THE NAUGHTY GIRLS!
---
CircleTV:
Good morning Katalina and Katie! Let me start off by thanking you both for agreeing to this interview!
Katalina Star:
It's no problem, love. It'd be nice to set a few records straight while we continue with our own record. [Laughs]
CircleTV:
You guys won the tag titles last May at Validation, yet you don't get the fanfare of other champs. Does it bother you guys?
Katalina Star:
It did for a short while, we first aimed to be defending champions. We even opened a challenge but...those who accepted didn't get an opportunity.
CircleTV:
Some say that your dominance in the division nearly killed tag team wrestling in LAW. Do you think that was the case?
Katalina Star:
Don't think we're killing the competition, just hoping for better. In fact, 4 new teams have recently signed on. So there's hope.
CircleTV:
We meant no offense, but thanks for the lead in. There are new teams gunning for you. Have you had the time to scout them?
Katalina Star:
[Blushing] I've...perhaps done my fair share of scouting on one member of those new teams. We've seen Kate in action, her teaming with Kenzi should prove...interesting. J&H certainly hold our interest as well. Same time, Dynasty is trying to come in on a big way themselves. I kinda wanna pull that nail from the board myself.
CircleTV:
With this surge, you guys are primed to be the center of attention where LAW champions are concerned. Any pressure?
Katie Klein:
None. 2016 proved to be our year to be dominant. 2017 will only be a continuation. We understand that each team holds their own level of skill, but we can't look weak just as they know not to underestimate us.
CircleTV:
We've seen you face established teams and teams on the fly like The Pink Ladies. Who have been your greatest opponents?
Katalina Star:
Right there, love, Pink Ladies. It was a controversial finish to a quickly drawn up match. If the titles were on the line? Hm...
CircleTV:
Ladies, we would like to thank you for spending the time to answer our questions today! We can't wait to see you in action!
Katalina Star:
The pleasure is certainly ours. Thank you for this chance to speak over such a subject.
[FIN]
---
This issue's centerfold features the beautiful, but dangerous "Oni of the Red Lady" Etsuko Mitzusaka! She came within an whisper of becoming the new LAW Marquee Champion! This month she becomes the undisputed pin up of your dreams!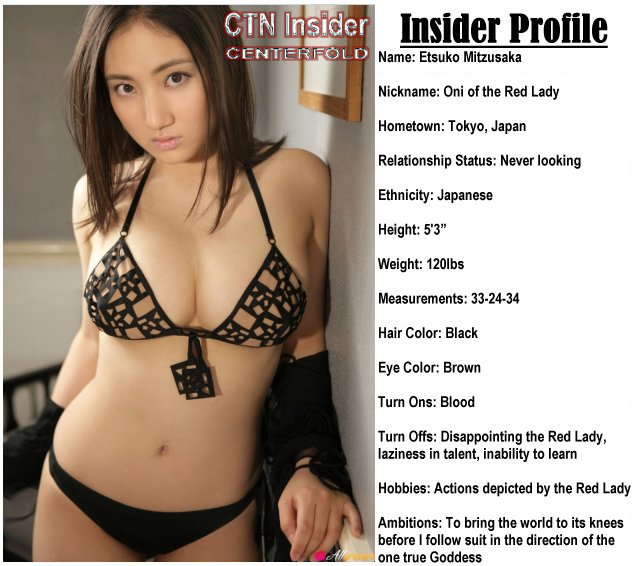 ALL THIS AND MUCH, MUCH MORE!