Post by The Circle Television Network on Mar 20, 2017 13:33:23 GMT -5
AN ALLIANCE OF VIOLENCE?
2:00 pm 3/20/17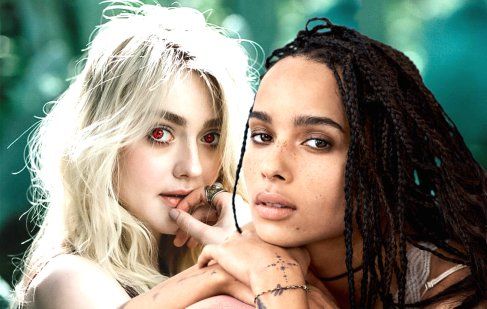 Stock Photo of Kenzi Grey and Sarah Lacklan
Last night fans of Ladies All-Star Wrestling and F-Society were treated to what could only be described as an orgy of violence surrounding a pair of tag team competitors from each organization; Kenzi Grey from LAW and Sarah Lacklan from F-Society. Despite being from separate organizations and having events on the exact same night in different cities, both women managed to appear on competing programs (we have no idea how this is possible).

In Las Vegas, Grey was seen in the locker room of F-Society during a segment with Lacklan and her tag team partner Melissa Reeves. After Lacklan and Reeves defeated their opponents; Grey allegedly distracted Reeves while Lacklan perpetrated a vicious attack on the F-Society Tag Team Champions, Locke & Keyes as they took on Adrien Cochrane and Tyson Gregory during the main event of the evening…
---

*****VIDEO REPLAY*****
Adrien and Tyson get their arms raised in the middle of the ring, as the pair meet each other's eyes, Lacklan comes running down the ramp. Just as Keyes is getting to her feet, Lacklan slides under the bottom rope and charges her with a full body spear, taking them both through the middle ropes and to the of the outside…

Lacklan made a statement on behalf of her team, that might not have been the one that Reeves wanted to make, but this could certainly position them for a title match in the future.
---

Meanwhile, in Greenville; Grey was scheduled to compete in a one-on-one match against veteran star Crystal Hilton…but somehow the match was changed to a handicap match which left Hilton alone against Grey and her tag team partner Kate Steele. Though reports are not confirmed, some are alleging that Lacklan is responsible for obtaining and falsifying the document that allowed the match to be changed. Lacklan also intervened from ringside during a critical moment in the match which allowed Grey and Steele to win the match…
---

*****VIDEO REPLAY*****

Kate offers a very wicked grin as she turns Crystal around placing her into what looks to be a German Suplex position. Kate stalls as she taunts the crowd but before Kate can lift her backwards Crystal manages to jump up kicking Kenzi right in the face as she flips Kate looking for her 'That's A Wrap!' finisher.

As Kenzi falls outside the ring, Sarah catches her and deposits her back on the ring apron. Inside the ring, Kate is able to grab a hold of Crystal and maneuvers her in position for her Punk Driver. Kate leans over to Kenzi as she tags herself in. Without hesitation Kenzi goes to the top rope and she jumps off. Kate slams Crystal down with her 'Go home Driver' the same time Kenzi grabs Crystal's head and spikes her right into the mat with a flying reverse DDT. Kate and Kenzi high five each other and grin after landing their K2 version 2.
---

Grey and Steele continued to savagely attack Hilton; the attack only ending after Farrah Martell, Zoey Madigan, and Courtney Leinart came to the ring and evened the odds. As Hilton's daughter ran to the ring, Grey also attacked her, slamming her into the steel barricade.

There is no current update on the condition of Hilton or her daughter, Brittany Williams.

LAW General Manager Megan Helms King took swift action against all three women following the match. Lacklan banned from attending further LAW events without s signed contract. Additionally Grey and Steele were placed on probation and informed that the current LAW Tag Team Champions would be allowed to pick the match stipulation for their upcoming title match (likely scheduled for the upcoming PPV Validation).

Lacklan and Grey have been perineal problem children for both companies for several months. Both women were arrested in New York on assault charges last month; narrowly avoiding jail time for their actions.

As the connection between these two continues to become more complex, what will that mean for both LAW and F-Society, especially if both women score tag team championship wins for their respective companies. Only time will tell.