Post by The Circle Television Network on Jul 14, 2014 6:26:40 GMT -5
OOC Information

Your Name: Ron

AIM: icona55a55in
MSN: a55a55in@hotmail.com
Yahoo: a55a55in226
ICQ: 49264726
Twitter: Twitter: @asiansisters

How you found LAW: Current Member
---
WRESTLER INFORMATION

NAME
"Oni" Kymiku Shinsuzuki




GIMMICK
Kymiku was raised in a world that was surrounded by violence, drugs, and vice as the adopted daughter of a prominent member of the Tao Yuai Jigyo Kumiai Yakuza family. She, along with her twin brother Senji, began plying their trade at an early age, and by the time they were in their early twenties, they were already veterans inside the squared circle…as well as respected lieutenants in the Yakuza.

A disagreement between the two siblings led to a series of bloody confrontations between the brother and sister combination, both in and out of the ring. While little is known about the details, the source of the 'disagreement' is widely believed to involve a woman whom Senji had become romantically involved with. When the fight between Kymiku and Senji escalated into an all out war, which threatened to divide the family, the two were forced to settle the dispute inside the ring. This fateful decision never came to fruition because Senji was killed under mysterious circumstances. Suspicion swirled around Kymiku, but in the end, the matter was settled within "the family" and Kymiku was left as an outcast.
The story of her brother's death has since been exposed as a lie told by Oni to her older sister, Nyako in order to keep her from seeking out Senji. Kymiku and Nyako have shared an uneasy and rather complicated relationship. That relationship was exploited when Kymiku formed the United Sisters of Asia (USA) in order to champion the superiority and solidarity of Asian women in professional wrestling. Using violence and mind games, she drew like-minded people to her cause...though her ultimate agenda lay hidden. Her sister managed to escape Oni's twisted schemes for a time. Now that Nyako has come to LAW, Kymiku has followed her here (thanks to Sidney Grey), in the hopes of mending their fractured relationship.


CHARACTER APPEARANCE

Kymiku is of Korean ethnic descent with flowing brown hair. Though slight in stature, Kymiku packs a powerful punch within her hardened and highly athletic body. She has a large ordinate tattoo of a purple Oni (demon), which fills her entire back, one on her right shoulder, and an Oriental dragon on her lower abdomen. As these are the hallmark of the Yakuza, many organizations frequently cover or photoshop them out of promotional photos to avoid negative connotations and undue attention they attract. Unlike most others, she has no such aversion to displaying her irezumi (hand-made tattoos) for the entire world to see.

PICTURE BASE
Grace Park


HEIGHT
5'8"

WEIGHT
132

HOMETOWN
Korea


ENTRANCE VIDEO



THEME MUSIC
"Big Black Hole" by Shaunna Hall

COMMON ENTRANCE

(Oni's public relations official, Dani Chow will commonly come to the ring first and take the microphone from Beth Harris in order to introduce the Mistress of The Black Lotus)

"Big Black Hole" by Shaunna Hall plays as the crowd is treated to images of Oni brutalizing her opponents in vicious and bloody fashion. The camera pans down from the screen as Oni walks out wearing a long flowing robe, her face hidden behind a horned demon mask and flanked by her attendants, the muscular Jun and slender Seiko. Around her waist, Oni wears the LAW Title, wrapped in barbed wire. She walks slowly down to the ring, pausing only briefly to assess the crowd as her attendants follow her. She ignores the boos and jeers of the fans as she makes her way down the ramp towards the ring. Oni removes the title from her waist and tosses it haphazardly over the top rope and into the ring. Jun and Seiko hold the ropes for her, as she enters the ring. Oni pauses briefly in the ring as she slowly removes her robe and then the horned mask which covers her painted face underneath. Jun and Seiko take her robe and mask. Oni snatches the belt off the mat and raises it over he head as she mounts the ropes, antagonizing the crowd.

ALIGNMENT
Heel

WRESTLING MATCH PSYCHOLOGY
While Oni is technically proficient inside the ring, she prefers to use a more brutal brawling style. She will frequently throw caution to the wind and sacrifice her body to damage her opponent. The ability to absorb and dish out massive amounts of punishment and uncanny strength for her size are often difference makers when she faces an opponent.
In recent months, Oni has started using a much more brutal and violent style inside the ring. She will frequently do everything that she can in order to instigate a violent slug-fest with her opposition. The more brutal her opponent, the more she enjoys it!
Following the match, she will clear the ring of her opposition...shoving or tossing them over the ropes and down to the floor after a post match beat down.
---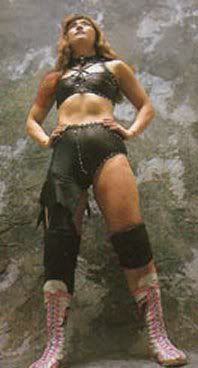 WRESTLING MOVES

COMMON MOVES
(Click on links in description to see video)

Axe Kick
Tiger Suplex
Surfboard Stretch
Various Pinning Suplexes
Sit-Out Powerbomb
Running Lariat
Knee Strikes
Elbow Strikes
Suicide Dive
Hurricanrana
Rolling Powerbomb
Flying Hip Attack
Cross-Arm Breaker
Choke
Armbar
Anklelock Submission


TRADEMARK MOVES
(Click on links in description to see video)

THE DEVIL'S NOOSE
(Swinging Sleeperhold)
Oni applies a sleeperhold and begins to spin her opponent around and around. When she finally releases the hold, the victim tumbles to the mat, dazed and confused. The move is simple, yet brutally effective!

FLASH OF CRIMSON
(Running Forearm Smash)
Oni measures her opponent and dashes across the ring, connecting with a violent haymaker to the face, which has been known to draw blood, knocking them cold as she collapses on them for the pin. In the past, she was infamous for wrapping barbwire around her arm to maim her opponent during no-holds-barred matches.

DEMON SPIKE
(Double Underhook Sheerdrop Powerbomb)
Oni bends her opponent over with a hard kick to the gut, then cinches in a deep double arm underhook. She brings her victim up into a vertical position with her uncanny strength and drives them straight down on the back of their neck and shoulders as she stacks them up in a pinning combination.


FINISHERS

ONI DRIVER
(Kudome Valentine)
From a position in which the opponent is standing behind Oni, she hooks her arms under the opponent's arms. She then twists her body around so that the victim is facing the ground and their back is resting against Oni's back. Oni stands while the opponent is in an upside down position while both the opponent and Oni's arms are still hooked. In a swift and violent motion, Oni jumps or drops into a sitting position, driving the helpless opponent into the mat head first. To add an edge to the maneuver, she will sometimes use a spinning variant.

THE DEVIL'S CRADLE
(Lung Blower/Dragon Sleeper)
Oni jumps up and grabs her opponent from behind and falls to the mat, slamming her knees into their back with brutal force, knocking the breath from their lungs. The force of the move commonly sends the opponent back up and to their knees. She quickly transitions into a deadly Dragon Sleeper which leaves the opponent little option but to tap out. Oni has been known to execute this maneuver by leaping at her opponent from the top turnbuckle or springboarding from the top rope. This variation is generally done in desperation and renders her vulnerable to counter attack should she miss or fail to submit her opponent.
---

VALET & MANAGER INFORMATION

VALET NAME
Jun Misawa (Enforcer)
Seiko (Associate)
Dani Chow (Public Relations)
MANAGER NAME
The Circle Television Network
(Multi-Media Corporation)

Click Here To Visit Our Website
Still Under Construction!
---
ADDITIONAL INFORMATION & LINKS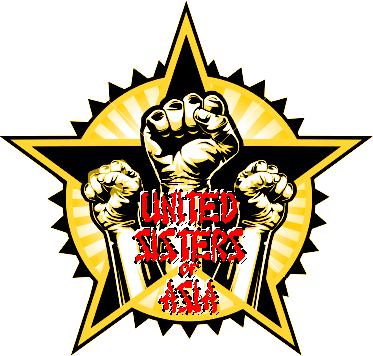 The United Sisters of Asia
(Stable Homepage)