Post by Maria Salvatore on Sept 8, 2014 18:02:47 GMT -5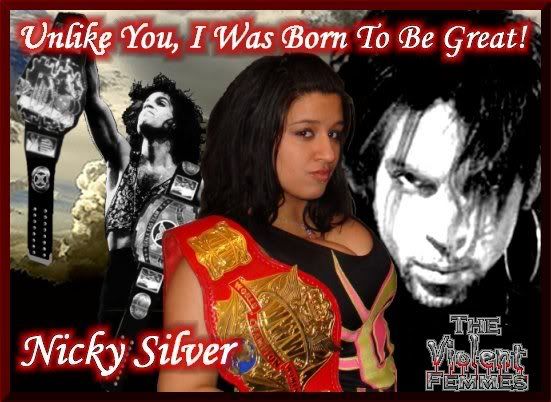 WRESTLER NAME:
Nicky Silver
REAL NAME:
Nicolette Lima
NICKNAMES:
Little Aranhas (Little Spider) | The Prodigy
ALIGNMENT:
Tweener
WRESTLERS AGE:
24
WEIGHT:
136
HEIGHT:
5'2"
BILLED FROM:
Paisley Park, Minnesota
HOMETOWN:
Sao Paulo, Brazil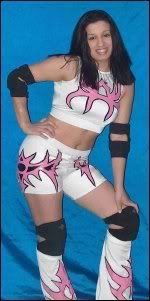 DESCRIPTION:
Nicky is a young girl, of mixed heritage, with short dark hair and a stocky build for her diminutive size. She doesn't fit the usual 'model' standard for female professional wrestlers, but what she lacks in looks, she makes up for in power and arrogance. She makes a fair go of glamming herself up outside the ring as she does whatever she can to live up to the larger than life reputation of her legendary father, dubbed "The Icon."
(Nicky Diva-Tron Entrance Video)
ENTRANCE THEME:
"New Day" by Adelitas Way
ENTRANCE:
"New Day" by Adelitas Way plays as twin columns of silver colored pyro erupts from both sides of the entranceway followed by a loud explosion that temporary blinds the fans that stand on their feet for a view of the daughter of "The Icon." Nicky arrogantly struts through the entranceway, followed closely by her valet/bodyguard, Maleek Raheem. The fans all stand and boo, but she soaks it all in and strides down the ramp with a devious grin. She strides confidently down to the ring as Maleek spends his time cheesing for the cameras and chatting up the female fans at ringside. Raheem reluctantly holds the ropes open for Nicky, after being reminded of his duties, then follows close behind. Raheem grins arrogantly at Nicky's opponent, winking and silently asking them to call him after the match…out of the sight of Nicky, of course as she gets ready for her opponent.
BRIEF BIOGRAPHY:
Nicolette is a second generation wrestler, the daughter of "The Icon" Nikki Silver, a multi-time World and Tag Team Champion in a career spanning several federations. She was raised by her mother, a former actress and fitness model from Spain, with which "The Icon" had a 'liaison' before his wrestling career even began. Her mother discouraged her daughter's involvement in the sport, but Nicolette remained undeterred. She did all that she could to follow in her father's footsteps, even adopting her father's larger-than-life arrogant persona as she prepared to do whatever it took to enter the world of professional wrestling…letting nothing stand in her way…her parent's opposition, her age, or her lack of actual wrestling talent!
Despite this, Nicolette plunged headlong into the sport, under her ring moniker of Little Aranhas (Little Spider), racking up an impressive string of defeats that would have deterred anyone else. Her parents banked on the fact that their daughter would lose interest and quit before she was seriously injured…but something akin to the opposite of divine intervention took place when her father's former manager, came calling, promising to make her as famous as her father had ever been. With the idea of fame, fortune, and wrestling immortality ringing in her ears, Nicolette now looks to reinvent herself and capitalize on the name that her father made famous. The only question is will this new Nicky Silver measure up to her father's iconic namesake?
WRESTLING STYLE:
Brawling Rule-Breaker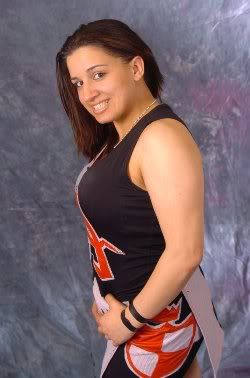 COMMON MOVES:
1) Flying Head Scissors
2) Sharpshooter
3) Torpedo Dropkick
4) Northern Lights Suplex
5) Enziguri
6) Outside Interference
7) Spear
8) Rolling Triple Clothesline
9) Frog Splash
10) Diving Crossbody
TRADEMARK MOVES:
(Click description to view trademark move)
1) Spider Bite
(Tornado DDT)
2) The Spider's Web
(Trapping Hair Pull/Neck Wrench)
3) The Makeover
(Hair Pull/Facebuster)
4) The Star Maker
(Falling Powerslam)
5) 3-P "Paisley Park Powerbomb"
(Double-Leg Kneeling Powerbomb)
6) Around The World
(High Angle Bulldog)
7) Drop Dead Gorgeous
(Kneeling Scoop Slam Piledriver)
FINISHERS:
(Click description to view finishing move)
1) Quick Silver
(Diamond Cutter)
2) The Silver Bullet
(Running Yakuza Kick)
---