Post by Alexius Stone on Jan 15, 2015 17:19:23 GMT -5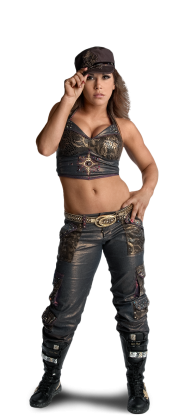 ---
OOC INFORMATION
Your Name: Noni
Best way to contact you: PM or Email me
How you found L.A.W.: On another site's Affiliate List
---
WRESTLER INFORMATION
Name: Alexius Stone
Nickname(s): Alexius the Reckless (a nickname given to her by her Father.); Lexi (given by close friends.)
Gimmick: A tough as nails fighter with a strong passion for competition due to her family lineage, who has broken more bones than nails in her time. Brought up with good morales and her Father's love endowed her with the willingness to believe there's good in everyone, a slight flaw that can sometimes make her naieve; but once you've crossed her know that there won't be any going back. Because when her temper flares you can count on her to make you aware of why she's called Alexius the Reckless.
Pic Base: Mickie James
Height: 5'6"
Weight: 127lbs.
Hometown: Jackson, Mississippi
Theme Music: "My Leftovers" by Porcelain & The Tramps
Common Entrance:

"My Leftovers" by Porcelain & The Tramps blares throughout the arena, preluding the arrival of Alexius Stone; she enters the arena to an ovation from the audience darting through the crowd with Security trailing

close by

to avoid oncoming assaults from overzealous fans. She has a smile painted on her face and is radiating charisma, feeding off of their positive energy no doubt, even making an effort to slap hands with a portion of them that she passes by. Alexius hops over the guard rail and baseball slides into the ring. She flips all of her hair backwards with one motion before leaping to her feet and scaling the first turnbuckle available to give her signature taunt; a single finger salute pointed at a 45 degree angle. The Mississippi Heart Throb then drops from the turnbuckle and performs a couple pre-match stretches before the match officially kicks off.
Alignment: Face
- Kick Variations: Roundhouse Kick/Spinning Back Heel Kick/Super Kick/Stepping Sidekick/Bicycle Kick/Dropkick/etc.
- Striking Variations: Elbow Strike/Left Jab/Knife Edge Chop.
- Springboard Flying Crossbody
- Headscissors Takedown/Frankensteiner
- Suplex Variations: Suplex/Northern Lights/German/Fisherman/Gutwrench.
- Twisting Neckbreaker
- Standing Moonsault
- Lou Thesz Press
- Bronco Buster
- Suicide Dive through the middle and top ropes.
- Leaping DDT
- Running Leaping Shoulder Tackle
- Tilt-A-Whirl Backbreaker
- Inverted STF
- Atomic Drop w/ connecting Sharpshooter/Liontamer/Facebuster/Leaping DDT.
- Matrix Evasion or Split-legged Evasion with Super Kick.
- Rolling Thunder into a Leg Drop.
- Any combination of punches with a leaping headbutt that grounds her opponent, followed by a bounce off the ropes and either a double stomp or double leg drop to the opponent's chest.
- Stone Age (Stone Cold Stunner)
---
MANAGER INFORMATION
Manager Name: N/A
Manager Pic Base: N/A

---