Post by Delilah Rayne on May 4, 2015 23:18:40 GMT -5
Best way to contact you: E-Mail: slammaster6471@yahoo.com
How you found L.A.W.: Twitter
---
Real Name
Delilah Stephanie Kristen


Ring Name
Delilah Rayne


Nickname
"The Alpha Female"


Gimmick
She prides herself in being the "perfect female"; the
embodiment
of superior strength, beauty, & intelligence. She's a straight forward, strong-willed & disciplined wrestler who feels that she's above everyone else and that everyone should bow down to her and kiss the ground she walks on. She also displays cockiness and arrogance as well in her attitude, to which she views as her confidence and determination.
Pic Base
Ashley Sebera (WWE- Dana Brooke)

VITAL STATS


Height
5'8


Weight
135 lbs


Measurements
36C-26-36


Dress size
4


Shoe size
9 ½


Hair color
Blonde


Eye color
Blue
Ethnicity
Latina/Caucasian


Body type
Athletic


Birthdate
9/21/91


Birthplace
Dallas, Texas


Current Residence
Orlando, Florida


Alignment
Heel


WRESTLING OUTFIT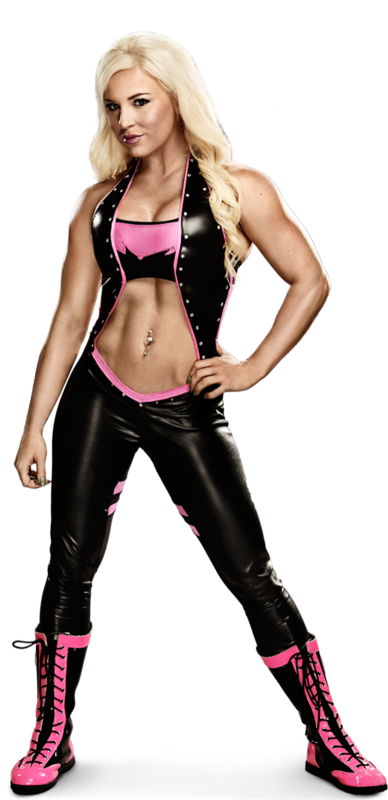 THEME MUSIC
"All The Things She Said" by t.A.T.u. (WWE Theme Song – Victoria)





ENTRANCE


(Begins at 1:11 - Ends at 2:10)

Note: Just as she makes her way down the aisle, Smithers appears and walks behind her in a distance. When she reaches the ringside area, he rushes past her and gets on his hands & knees, creating a step for her to use to enter the ring.



(Begins at 1:47 - Ends at 2:04)

Afterwards, Delilah makes her way toward the corner, stepping over her opponent, and climbs up to the top, posing to the fans.


COMMON MOVES


1) Triple Vertical Suplex (1 regular, 1 stalling, & the third being a slingshot suplex)
3) Mudhole stomp (Multiple stomps to the chest of an opponent seated in a corner, followed by a taunt, and then a final stomp to the face)
5) Springboard Roundhouse Kick
8) Handstand Corner Foot Choke
10) Leg Trap Sunset Flip Powerbomb
11) Bridging Northern Lights Suplex
14) Tilt A Whirl Backbreaker
TRADEMARK MOVES


Delilah grabs opponent and unleashes a series of kicks to the opponent's chest followed by a spinning kick to the chest. With the opponent dazed, Delilah runs the ropes and just as the opponent bends over, Delilah jumps up and drills the opponent's head to the mat with the sole of her boot in a curb stomp. Usually used as the set up to one of her finishing moves.


Delilah throws opponent to the corner turnbuckle then from the opposite side, runs towards the opponent, does a hand spring midway, and nails the opponent with a back splash, hitting her with her back elbows.


With her opponent wrapped in a arm lock Delilah wraps her long leg around the back of her opponents and head. Afterwards, she flips down, driving her opponent's head into the mat.


FINISHERS


Delilah lifts an opponent into a position where the opponent and she are back to back with the opponent's head pulled across the shoulder of Delilah and their legs hooked over Delilah's legs. From this position, Delilah drops to a sitting or kneeling position, driving the back of the opponent's neck into the shoulder of Delilah and the knees of the opponent into the mat. This move can also see the opponent's neck placed over Delilah's head instead of their shoulder. (Widow's Peak)


With the opponent supine on the mat, Delilah steps between the opponents's legs with his/her right leg and wraps the opponent's legs at shin level around that leg, flipping the wrestler over from left-to-right, keeping the opponent in front of her. Delilah then leans over the opponent and grabs her arms, applying a double chicken wing to the opponent. The applying wrestler then squats back, lifting the opponent's torso into the air. (Scorpion Crosslock)
ILLEGAL/INTIMIDATION TACTICS


These are not official moves, but they are most fitting for Delilah to demonstrate her superiority over her opponents.
Spinning Boot Scrape
This is usually done on opponents face or the back of the head.
Nutcracker
After an opponent is downed in a corner, Persephone slides out of the ring, grabs the opponent by the legs and pulls back hard, slamming the opponent's groin area square into the corner post.


Cocky Pin
On rare occasions, she does this to pin her opponent. She puts her foot in opponent's chest (or face) and stands in a sexy victory pose, flexing while the referee makes the count.
STRENGTHS
Delilah's strategy in the ring is built around her freakish power, which she obviously uses to her advantage. A strong-style brawler who punishes & weakens her opponents with power moves and submissive techniques, obviously giving no mercy to anyone that faces her. She is also a well-versed suplex machine.
To compliment her size, Delilah sports tremendous strength as well. She can easily lift wrestlers up to 235 pounds, male or female, providing a distinct advantage to her strategy and an intimidating challenge to her opponents. She's also uses her gymnastics background to her advantage as well which heightens her dexterity when she's in the ring.
WEAKNESSES
Though she is very impressive in the ring with her well-roundedness in her physicality, Delilah is still in the developmental stages in professional wrestling, which means she can be prone to making mistake from time to time. She can be a little too aggressive on her opponents, which can throw her off and leave her open for any counters from opponents. On occasion, especially against smaller wrestlers, she likes to show-off and "play around" with her opponents, to play off her arrogance to them and the crowd.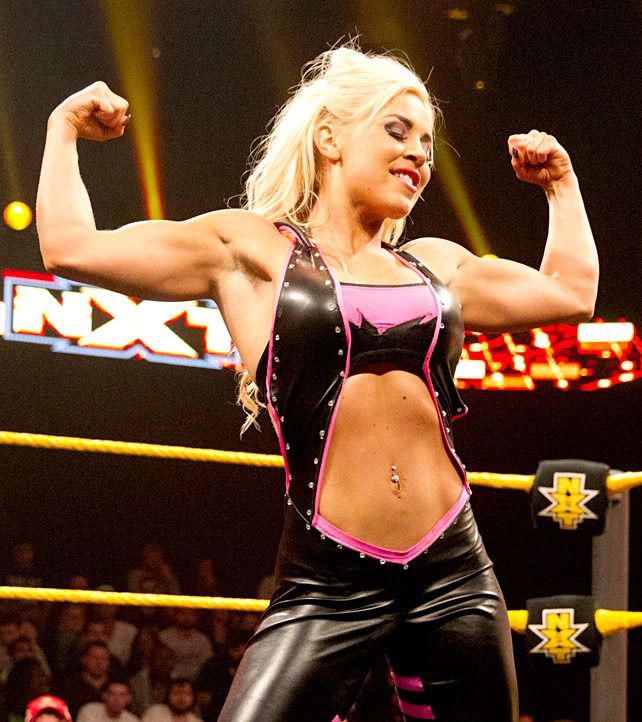 If there is one true definition of an "Amazon" in professional wrestling, this woman would come close to it. But there is more to this woman than her stunning good looks and her physically solid & chiseled body, her most greatest asset being an incredible athlete.
Being raised as a tomboy, Delilah has moved around a lot with her parents, with her dad being in the United States Marines at an early age. She's been in more countries than most kids would go in a lifetime. Though she gives credit to her dad for her straight forward guidance and determination, Delilah really channels her strong will through her mother. She totally dedicates everything she does to both her parents, for she feels she "honors" them by her determination to be the best in whatever she did.
Her athleticism is surely one to be noted. She was a competitive gymnast for 10 years and made it onto many US National teams throughout that time. However, continuous injuries have forced her to step down from competing, but not stop her will to compete.
She was always interested in body building competitions and so intrigued on how the body worked with muscle training and development. With that, she decided to pursue it. With a good supporting base from friends and fellow people in the business, she worked her way into competing in competed many Fitness & Bikini Competitions for 3 years as in the fitness world as an IFBB bodybuilder. In between competitions, Delilah found other ways to display her talents while making good money in doing so. She did some work in TV & Films as a stuntwoman, did some modeling, & being a personal trainer, all of which she still does on occasion.
After obtaining success in the fitness world as an IFBB bodybuilder, she now turns that same determination towards professional wrestling. Already a fan, Delilah decided that she would like to do it professionally. She began to train in 2013 in a wrestling conservatory while she was in Japan and remained there for about a year before beginning to wrestle in independent leagues both stateside and around the world. She's a strong advocate in females getting equal respect than their male counterparts in wrestling and through her years competing, she earned respect from both male and female wrestlers.
Now she comes to Ladies All-Star Wrestling, where her goal is quite simple, to reach the highest pinnacle of success while dominate the competition with the tools she has worked hard to refine, both physically & mentally.
INTERESTING FACTS ABOUT DELILAH
- She is half Latina and half Caucasian. Her mom is Mexican & her Dad is Caucasian.
- She can bench press 300 pounds.
- She has a tattoo on her right foot.
- She currently has purple belt in Brazilian jiu-jitsu.
- She graduated from the University Of Texas (Austin) with a Bachelors of Science degree in Marketing & a minor in Entrepreneurship.
- She speaks three languages (Spanish, Japanese, & a little German).
MANAGER INFORMATION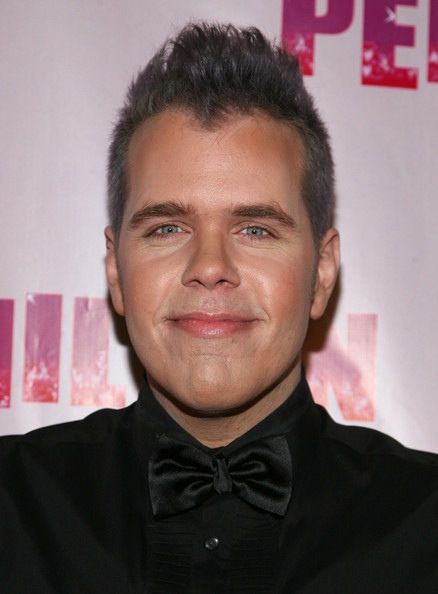 Name
Dalton Smithers
Nickname
Smithers
Picture Base
Perez Hilton
Height
5'4
Weight
120 Lbs.
Birthdate
March 23, 1980
Place of Birth:
Las Vegas, NV
Alignment
Heel
CHARACTER PERSONALITY
Completely enamored with his superior Delilah and is connected to her like a disciple. Everything he does, he does for Delilah. Does everything he's told to do by her, or even do without asking her, because he believes that's what she wants. He puts himself as on a higher level, much like his superior. That can make him annoying for people when he taunts and puts people down, though everyone knows he's nothing more than her minion.
STRENGTHS
Very resourceful when it comes to the welfare of Smithers. He's very sneaky around the ring which makes his always a factor when he's at ringside. Can take care of himself physically when it calls for it.
WEAKNESSES
Can overreact a bit when things go wrong. Always puts himself to blame. Sometimes he can use it to his advantage when trying to get the attention of Delilah's opponent and/or referee.