Post by The Circle Television Network on Nov 8, 2016 17:59:06 GMT -5
Chapter XI: A Question of Angels (Part 2)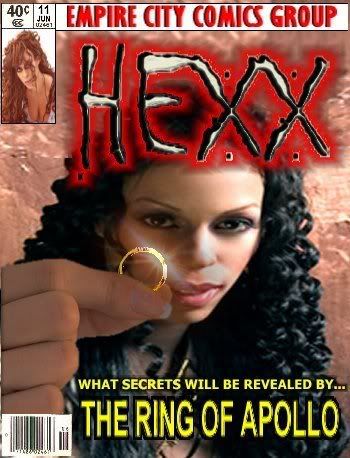 Channel 8 News – Special Report!
Empire City
The scene opened on the set of Channel 8 News as the city's most popular news anchor, the lovely Pam Dawson greeted the morning faithful.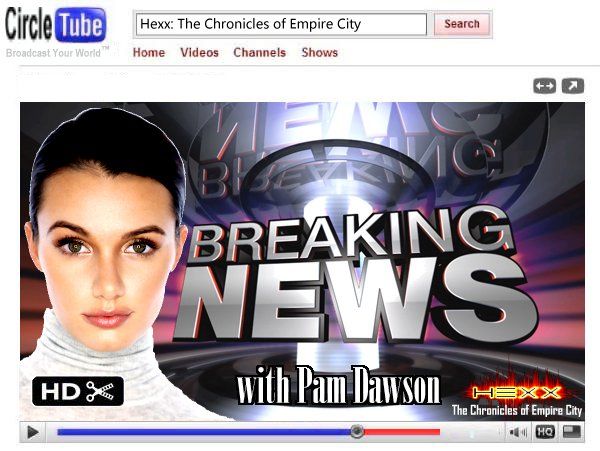 "GOOD MORNING EMPIRE CITY!! It's a bright and beautiful day…and after the events of last night…we hope it to be a much safer city!" An image of Superius appeared on an inset panel behind her…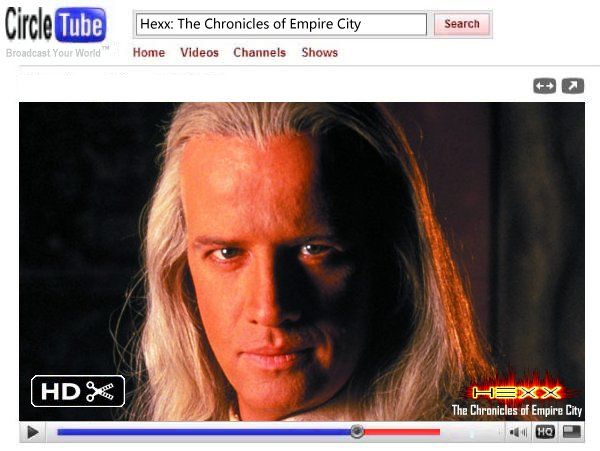 "In our city's MOST desperate hour…our greatest hero and savior returned to end the wanton violence in the street, and crush the Meta-insurgency!" She paused and turned aside. "The term, Meta-insurgency is trademarked by Channel 8 News and may not be used in any other written, oral, or video presentation without the expressed consent of our parent company." She turned back and continued her report. "Under the keen leadership and awe-inspiring strength of General Superius, the villainous Meta-leader, known as Gaia, was finally stopped!"
The background image changed to joyous celebrations in the streets. "In spite of government imposed curfews, thousands of people took to the streets to express their happiness over the return of Superius to Empire City."
An inset panel appeared at the bottom of the screen as several citizens were asked about their thoughts on the subject…
"What do I think about him coming back? I think it's the most wonderful thing in the world! He'll set things right, and bring order to Empire City!"

"Superius? MAN!! That dude rocks… HE ROCKS!! He was kicking some serious Meta-Ass!!"

"Am I happy about him coming back? HELL NO I AINT HAPPY…I'M FREAKING ECSTATIC!! Maybe now we can finally get things back to normal around here…or at least as close to normal as we can."
The inset panel disappeared and Trisha continued her broadcast. "Indeed…over most of Empire City that was the prevailing attitude, however…the scene in Gateway Park last night was equally amazing…but for an entirely different reason." She paused for a moment as she turned the page she was reading from. "An anonymous tip was received by this station and several of our sister networks informing us of an individual wired with a bomb and left hanging from the statute of Superious. What ensued was a scene of absolute pandemonium!" Again she paused. "We here at Channel 8 News would like to remind you that this footage you are about to see has not been altered in any way…"
The screen switched to video of the 'angel sighting' in Gateway Park. The shaky camera attempts to focus in on the dangling police detective hanging from the statute of Superius, when suddenly a figure appears from the sky and there are several gasps from the crowd as they watch. The camera seems to blur, only picking up flashes of beating wings. Even so, the looks on the faces of the people watching is that of absolute awe. An inset panel of 'The Angel of Empire City'' appears at the bottom of the screen freezes the frame and a blur is circled for the viewers.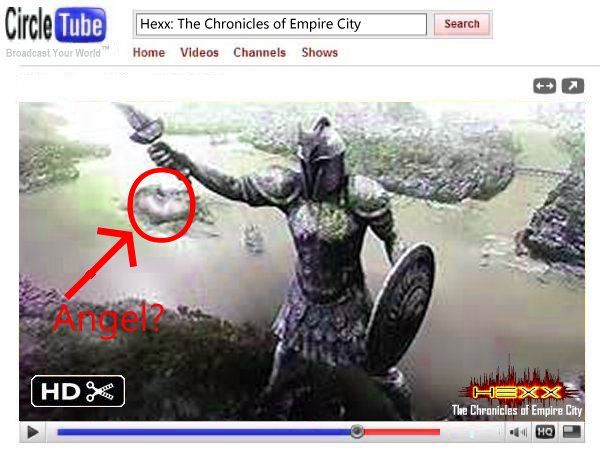 As the angel battles with a pair of Meta's, the camera pans slightly to the right and managed to get a clear picture of the angelic figure's shadow, if nothing else.
The scene returned to the studio. "Several camera's attempted to document the sighting, but in each and every case, the image was blurred and barely recognizable. All the same, eye witness statements confirmed the sighting."
An inset panel appeared at the bottom of the screen as several citizens recalled what they saw…
"MAN!! I don't know what to say!! It was a…a…ANGEL! No other way to put it!! Came down from the sky…and just landed right in the middle of the park…it was magnificent!!"

"I think it was a girl angel!! Do they have girl angels? She was fine…that's all I know! I'm going to church next week, and that's REAL!!"

"You know…I aint never believe all that 'One God' nonsense before. I mean…you can't even see him! But after tonight…after everything I saw…maybe that Knight preacher dude was right. I mean…there were things that happened out there, that I can't understand or explain, except to say that it was divine intervention…that's the only way I can describe it!"
The scene returned to the newsroom. "As if this story wasn't wild enough…the cameras did manage to capture evidence of this 'so-called' divine intervention. As before…what you are about to see has not been altered in anyway."
The screen showed the shocked expressions of several on-lookers as they pointed skyward. The camera panned up as a man and woman were seen gently floating to the ground…perhaps guided by the unseen hand of The Almighty himself.
"Adding to this complex scene…" The background screen showed an image of Brandon. "Brandon Knight, one of the people rescued from the statute, is one of the religious leaders of 'The Church of The One God'. Brandon Knight found himself in the middle of a citywide controversy when he denounced followers of Superius as idol worshipers. Following the statement, membership in those churches suffered, compounded by a series of fires which burned many "One God' Churches to the ground."
"Following the incident, Channel 8 cameras were able to get these comments from Mr. Knight…"
Brandon appeared on camera as he was checked by paramedics. "Tonight…everything that I have ever said has been vindicated! All of the idol worshipers in Empire City will have to stand up and take notice! God is real…and no one can deny it! All of this Super-Meta worship needs to end!!"
The interviewer spoke up. "What about the return of Superius?" A look of confusion crossed Brandon's face, he obviously hadn't heard the news. The interviewer elaborated. "Tonight…only a few short hours ago…Superius returned to Empire City and he put down the Meta Insurgency."
Brandon was silent for a moment as he stroked his chin. Finally, he turned to the camera and addressed the people of Empire City directly. "For all I know…Superius was a part of this entire fiasco! I don't want to waste my time talking about a false God, when the one TRUE God has picked this very time to make His presence known to everyone. Tonight…the Hand of God reached down and snatched me and another of His children from the jaws of death. God is real…and everyone here felt His power!"
The scene returned to the studio. "This incident, coupled with the return of Superius is sure to re-ignite an intense debate over the 'One God' theory. Be that as it may…no matter what side of the debate you are on…the one thing that is certain is that Empire City is a lot safer than it has been in a long time."
"I'm Pam Dawson, and this has been Channel 8 News…"
---
Madison District Police Station
Empire City
Stacey walked into the police station with a bandage over her left eye. The other side of her face was still slightly swollen from her ordeal, but strangely, she hardly felt any pain at all. During her attempt to apprehend Gaia, mortar fire had rained down, nearly on top of her, sending her flying. She'd been knocked unconscious…but by all accounts, she should have been dead. Several of her fellow officers turned and applauded as she walked in.
She stopped and held up her hand, "Stop it…please, just stop! I did what any of you would have done in my place…but Superius is the one to really thank." She paused, "Now…if you are all done dicking around, we have police work to do, okay?!"
The group all nodded in unison, then erupted into a chorus of laughter and scattered. Stacey rolled her eyes and walked into her office, slamming the door behind her. She looked up at the stuffed angel toy that was being swung around by the ceiling fan over her desk. A black Barbie doll with a police badge was clinging to the stuffed toy.
She walked over and snatched the stuffed toy down and stared at it for a moment. She tossed the Barbie aside as she stared at the angel. It was crudely made, but it fit the typical image of what people generally expected them to look like. After what had happened last night…there might have to be some reevaluation. She tossed the toy into the chair in front of her desk as she took a seat in the one behind it.
She had believed that Brandon was crazy when he left the force to chase after some crazy 'One God' religion. Now…maybe he wasn't so crazy…or things weren't as they appeared. Stacey was snapped out of her musings by a knock at her door.
She looked up as a tall blonde woman stuck her head in the door. "Detective Jordan? Mind if I have a quick word?"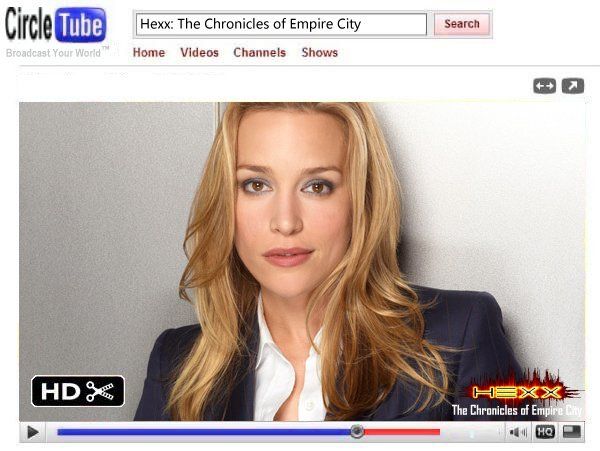 She didn't wait for a response as she walked in and started to take a seat, then picked up the stuffed angel and held it up. "You're really into this One God stuff, huh?"
Stacey leaned over her desk and took the toy from her and dropped it in the trash. "Not in the fucking slightest!" Stacey had trouble choking down her emotions. "Can I help you…Miss?"
The woman reached into her breast pocket and pulled out her credentials, "I'm sorry Detective. My name is Agent Grace Sloan, I'm with the Agency…"
Stacey took the woman's identification and stared at it, "The Agency? What Agency?"
Agent Sloan smiled as she reached over and took her identification back. "You know…I asked that same question when they recruited me."
Stacey narrowed her eyes, "I'm sorry…what in the hell is this all about?"
She sighed, "Last night could have went sideways for us all in a hurry if it wasn't for…"
She cut the agent off, "Superius. Yeah, he pretty much saved the city."
The agent raised her eyebrows, "…and humble too! You're a one in a million aren't you?" She sat forward, "Empire City would have been screwed last night if you hadn't did what you did…Superius and angels aside! My team wasn't even ready for that punch in the mouth we got last night…and my team is always ready!" She shrugged, "We got caught with our pants down and I'd rather that not happen again. We'd like to offer you a position with The Agency…the Mayor's special taskforce. Completely autonomous and apparently…" she looked at her badge, then tucked it back into her jacket, "…completely anonymous."
Stacey stared blankly at her, "This is a joke from the Captain."
Agency Sloan shook her head, "This is an opportunity for your talent not to be wasted."
Stacey was unable to hold back the contempt in her voice. "Who said that they were? The threat was stopped."
The agent nodded, "Well…you got me there Detective Jordan." She pulled out a card and tossed it on the desk in front of her. "That's our number. Call it…or don't." She stood up, "Personally, I hope you do."
Stacey stared at the card and then back at Agent Sloan. "What would happen if I detained you right now and ran those credentials of yours?"
She smiled, "Nothing good…for you, Detective Jordan." She winked, then pointed to the card, "Call us when you're tired of chasing your tail, okay?"
Stacey considered calling the woman's bluff and running her through every system they had as she watched the woman walk out, but she was still and ECPD Detective and she had a job to do. She fiddled with the card, considering throwing it away, then opened her desk drawer and dropped it inside. Stacey turned her chair to a large board behind her with several crime scene pictures from numerous cases she had been working. She reached up and began pulling the pictures down, until the board was bare. She pulled several new pictures from her pocket and pinned them to the board. Pictures of her rescue…of her Meta-human abductors…and blurry pictures of the so-called angel…the woman she knew as Anka.
Stacey sighed as she interlaced her fingers and pressed them to her lips, staring at the board. Something more was going on here…more than met the eye. She had never even thought about the question of religion before, but now she had no choice. Something had happened last night…but she wasn't so certain that God had as much to do with it as Brandon purported. She didn't know a damn thing about angels…but if the woman she had met before with Brandon was one…then the standards of Heaven were seriously suspect!
Anka Jarius wasn't a damn angel…she would have bet her life on it, and if that held true…she didn't owe her rescue to the 'unseen hand of God' either! There were other forces at work here…something that Brandon had found himself right in the middle of… and she meant to find out exactly what it was…before Brandon ended up getting hurt…
…or worse…AGAIN!
---
The Knight Estate
Trinity Hills, Empire City
Daria Knight sat in her study, the lights off and yet another stiff drink poured in front of her. The events of the previous night had played on her mind and haunted her dreams. Had she not seen it for herself…she wouldn't have believed it. Her brother had been right…there was a God…or so is certainly seemed.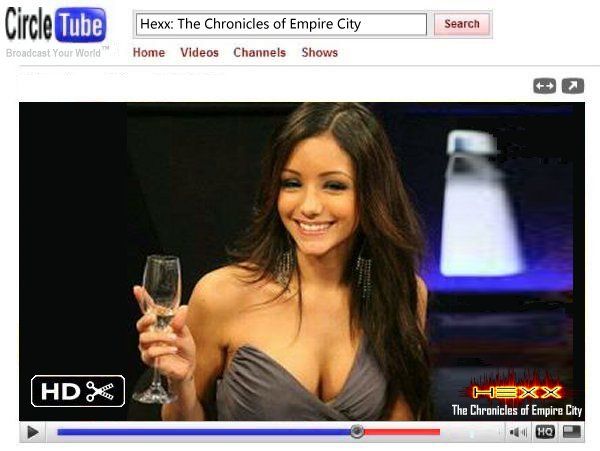 Daria lifted the drink to her mouth and chugged it all down, slamming the empty glass back on the desk. The light on her teleprompter flashed and for a moment she considered not answering it. She knew who it was…and she had no desire to speak to them at the moment. She sighed, even as she reached for the answer button…
"Daria…you and I need to talk!"
Daria almost laughed as she looked at the cloaked figure on the screen. They looked almost idiotic to her now. How petty their schemes seemed in the face of all that had transpired. Daria poured herself another drink. "I suppose you've seen the news…?" Daria looked up and pointed her finger to the sky. "…there are angels in Empire City…"
The figure wearing the cloak hissed. "ANGELS!! When your brother is dead…maybe he'll become one…but until that moment comes…you need to get your head screwed on correctly! Don't let a bunch of religious rhetoric cloud your mind and lead you astray! We are on the verge of getting all that we want!"
The problem was that Daria no longer knew what she wanted. "What about the…the angel?" Daria looked to the heavens. "What about God? Do you really think that you can touch my brother now?"
"THERE ARE NO ANGELS AND THERE IS NO GOD!! If you want to worship something…worship the money we will make!!" Daria could see that the person was in an absolute rage. "This…MIRACLE…has come at the worst possible time! We were on the verge of controlling every inch of property belonging to those One God fools! Once your brother is dead, you'll have a legitimate claim to those holdings!"
Daria arched her brow as things were made perfectly clear now. "But with people having renewed faith…the churches will be rebuilt. The land will never pass to me…"
"To us!" The cloaked figure corrected. "Killing your brother now will not end this. We must discredit the faith before we can move on him. This…angel…she needs to be dealt with."
Daria sighed as she appeared to look impassive, though secretly she was glad that no harm was in her brother's immediate future. "The two you sent after her at Gateway Park?"
The voice as lower now and filled with malice. "Reaver and Vixxxen had their chance. This job will require someone who can move in the shadows and take care of things quietly."
Daria sat forward and narrowed her eyes. "What did you have in mind?" Daria couldn't see through the darkness that concealed the figure's identity, but she suspected that a demonic smile dwelled just below the surface…even as the call ended. She sighed, lacing her fingers as she wondered what her 'friend' had in store for the angel…if there even was such a thing.
---
An Undisclosed Location
Empire City
The cloaked figured shut off the telecommunications monitor. "This 'angel' must be dealt with."
Arella immerged from the darkness, "We will deal with my 'mother' and then the lamb will be ripe for the slaughter. You'll have your lands soon enough." She turned to her compatriot, the blonde haired field reporter for Channel 8 News, Michelle Andretti. "We have work to do…" Michelle seemed almost cloaked in darkness and shadow, as if it were part of her now. Arella narrowed her gaze, "Remember why we chose that body…do not injure it!"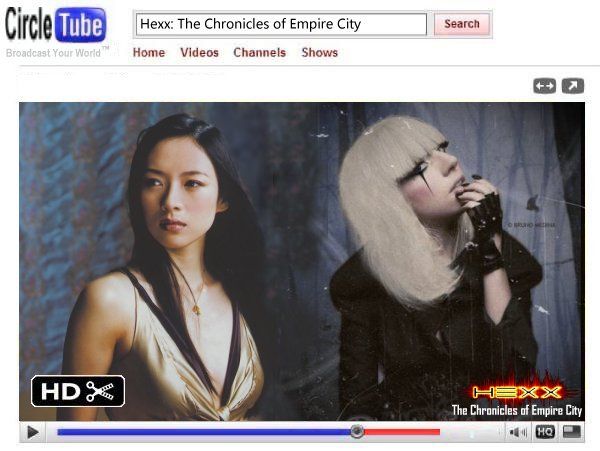 The shadow thing that was, and yet was not Michelle frowned, "There was power in this body…" She looked at her hands…fingers that had once bore a ring of great power. "…I would have that power again."
Arella took the shadow thing by the hand, "Once we have done as my Father commands…you will have all the power you desire!"
---
EPISODE CREDITSCAST (In order of appearance)
Pam Dawson ... Kara Ayers
Superius … Seth Jorgenson
Anka ... Kenzi Grey
Father Brandon Knight … Trace VanReardon
Detective Stacey Jordan … Nina Stokes
Agent Grace Sloan ... Amy Jo Smyth
Daria Knight … Missy
Cloaked Figure ... DubbleFC
Arella ... Orchid
Michelle Andretti ... Delia Darling
Directed by … DubbleFC
Screenplay by … Ron B.
Produced by … CTN Television Studios
Casting by … Maleek Raheem
Music by … Pedos Candy