Post by The Circle Television Network on Oct 11, 2016 10:15:18 GMT -5
CTN INSIDER MAGAZINE
October 2016 Issue 2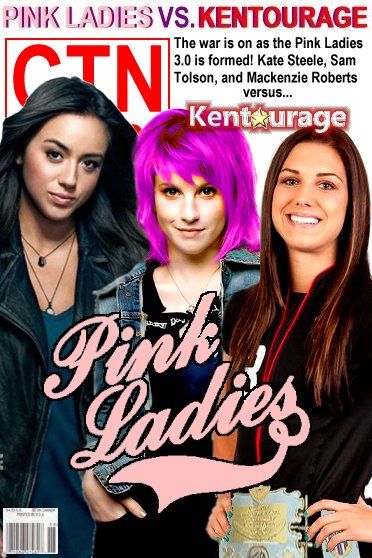 Features

The Pink Ladies: Page 36
The Pink Ladies was formed to combat the threat to LAW posed by The United Sisters of Asia. This initial team of Kate Steele, Jennifer Drew, Mackenzie Roberts, Skye Sparks, and Sidney Grey laid the foundation for what was to come. Members would come and go over time, but this 3rd incarnation may be the most dangerous of them all! We rate each version of the Pink Ladies to find out which is the BEST!


Kate Steele: Page 4
"Lil Miss Ultraviolence" has done it all in LAW…well…almost all! Kate threw her hat into the ring for a shot at the Breakout Title held by Orchid…a member of the Kentourage. As the war between The Pink Ladies and The Kentourage boils over, you can guarantee that if this match happens, it will figure front and center in this conflict! We review Kate's amazing championship history!


Mackenzie Roberts: Page 12
Mackenzie Roberts has quietly surpassed the LAW all-time record for a titleholder without much, if any, fanfare at all. Her amazing streak continues on in the background as the challenge of Etsuko Mitzusaka starts to loom large. Can this big match performer stay focused on the mounting challenge of Etsuko while the war with The Kentourage heats up? We review all of Mackenzie's amazing title defenses in pictures!


Sam Tolson: Page 22
Sam Tolson has never needed any gimmicks to chart her path of destruction through the wrestling world, but she could have used some help to keep her Chaos Title against The Kentourage. After evoking her 'very special' rematch clause, Sam is now poised to etch her name in the record books once more as she sets her sights on Kenzi Grey and becoming a 3-time Chaos Champion! We breakdown Sam's "Devil's Playground" match and pick the weapons we want to see!


Special Insert: Ash Scion
Ash was right in the middle of the war against The Kentourage before personal affairs forced her to take yet another hiatus from LAW. Will she return? She claims she still has RED in her ledger so we hope that she'll be on her way back soon! We celebrate Ash with a pictorial of her greatest moves inside the squared circle!


Delia Darling: Centerfold
Delia is the undisputed DARLING of Sin City Wrestling, but after her appearance on Hexx: Chronicles of Empire City, she is also the DARLING of television! This beauty graces our centerfold in this issue to bring class and style to us all!

Plus Much More!!


- CTN Insider Centerfold -