Post by Jekyll & Hyde on Dec 29, 2016 15:43:37 GMT -5
OOC Information

Your Name: Ron
AIM: icona55a55in
MSN: a55a55in@hotmail.com
Yahoo: a55a55in226
ICQ: 49264726
Twitter: @sistershyde



How you found LAW: Current Member

---

WRESTLER INFORMATION

Jessika Hyde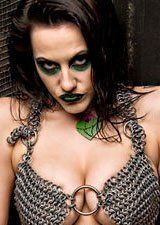 GIMMICK

Jessika Hyde is mentally disturbed on an epic scale after a childhood accident and years of isolation inside a London asylum. Jessika's twin sister brought her to the United States in the hopes of reconnecting with her after a long separation. The siblings which once had nothing in common now move to reconnect through in ring competition, but perhaps Karyn shares more with her unbalanced twin sister than she knows.




HISTORY

Karyn and Jessika Hyde grew up together in Bishopsgate near London and by most accounts, their initial upbringing was normal. All of that changed when Jessika drowned after falling overboard during a family boating trip. Jessika was revived after being submerged for several minutes. Jessika languished in a coma for months and soon the cost of her treatment and other family difficulty led to the breakup of their family. Their mother would later move to the United States with Karyn while their father stayed with Jessika in England.

Nearly 20 years passed before the sisters would see one another again. Karyn was working towards a career inside the squared circle when she received word that her father had passed away and her sister, now a ward of Bethlam Royal Hospital was in no condition to settle his affairs. Karyn returned to England and reconnected with her sister, now brain damaged and child-like in her ways. Karyn began to delve into mental health studies in the hopes of helping her sister recover some of the broken threads of her mental tapestry…but the deeper Karyn digs, the less she likes…


---
CHARACTER APPEARANCE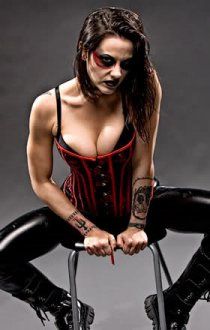 Jessika is a young woman of average height and build. She is fair skinned with shoulder length black hair. Jessika's body is riddled with scars and tattoos. She will typically wear very dark/gothic make-up.


PICTURE BASE


Shannon Claire Spruill (Daffney with Tattoos)

HEIGHT

5'6"

WEIGHT

136lbs


HOMETOWN

Bedlam (Bethlem Royal Hospital), London

ENTRANCE VIDEO




THEME MUSIC

"Going Under" by Evanescence

COMMON ENTRANCE

"Going Under" by Evanescence begins to play as Karyn Jekyll leads Jessika out. Jessika initially seems shy and withdrawn, but the sight of the crowd fascinates her and she seems to come alive with excitement. Jessika skips to the ring with a frightening grin on her face as Karyn is forced to run behind her to keep up. Once inside the ring, Karyn corrals her sister into the corner to calm her down before the start of the match.

ALIGNMENT

Tweener


---
WRESTLING MATCH PSYCHOLOGY

Jessika fights with reckless abandon as she seeks to overwhelm her opponent with a relentless and vicious attack. Jessika has a ridiculously high pain threshold and will oftentimes risk injuring herself to deal damage to her opponent. Karyn remains at ringside to calm her sister down during and after the match.



WRESTLING MOVES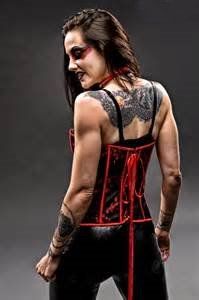 COMMON MOVES


Charging Clothesline
Bodyslam
Knee Smash
Headbutt
Bite
Back Kick
Running Boot
Hairwhip
German Suplex
Sleeper
Hotshot
Double Axe Handle
Back Elbow
Spear
Double Arm DDT
Bulldog

TRADEMARK MOVES

Repeated Knees to the Face
Suplex into the Corner
Running Hip Attack

FINISHERS

The Cruel Twist
(Spinning Neckbreaker Pin)



The Asylum
(Modified Scorpion Crosslock)