Post by The Circle Television Network on Jan 20, 2017 15:22:27 GMT -5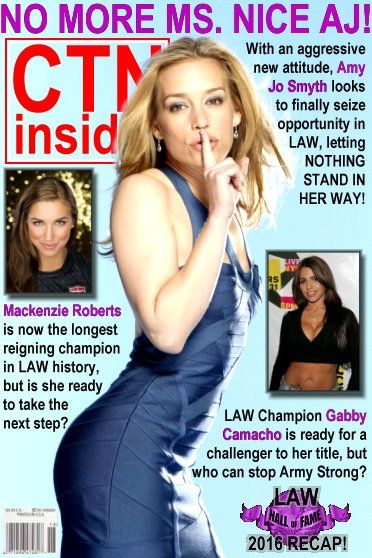 CTN INSIDER MAGAZINE interviews "The Good Doctor" Amy Jo Smyth, Ladies All-Star Wrestling star!
---
CircleTV:
Amy Jo Smyth, thank you for taking the time to speak with us and the fans of LAW today.
Amy Jo Smyth:
You're welcome.
CircleTV:
Could you tell us what drove you into a career inside the squared circle?
Amy Jo Smyth:
It was kind of an accident. My friend is a pro wrestler and one day, I slid into the ring to help her. The rest is history.
CircleTV:
Did you have any idea what you were doing that first moment inside the ring? It had to be frightening, right?
Amy Jo Smyth:
I didn't really think. I just did. It wasn't scary, no. I had my own brand of skills and it wasn't my first fight.
CircleTV:
You have had great success in the ring, held multiple titles, but a World Title has eluded you. Why do you think that is?
Amy Jo Smyth:
I've won them just not recently, nine years since my last one. I haven't been given many opportunities to win them, that's why.
CircleTV:
In recent weeks, you have been showing a much more aggressive side. Is this how you are looking to get that opportunity?
Amy Jo Smyth:
I've already got my opportunity. I got the attention of the right person. It worked. But I ain't done.
CircleTV:
You are talking about the LAW Champion [Gabby Camacho], of course, but some say there's a bigger challenge first...[LAW Marquee Champion] Mackenzie Roberts.
Amy Jo Smyth:
She's a challenge, yes, but she can be conquered.
CircleTV:
True, she has been beaten before, but that list is small. How do you intend to get your name on it?
Amy Jo Smyth:
The way I've always done it. Being a better competitor.
CircleTV:
What happens if she proves to be the better competitor on that night? What happens if you fall short?
Amy Jo Smyth:
I don't think about those things. Wrong mindset. It's a mindset I got into last year and it cost me. No more. No more Ms. Nice AJ.
CircleTV:
This aggressive attitude has been noticed by LAW and has caused some fans to turn against you, how do you explain it to them?
Amy Jo Smyth:
I'm sorry they feel that way. I am, but it's high time I start doing things for myself and doing what I need to do.
CircleTV:
We know Roberts is in your immediate future, but if you get past her, Camacho is waiting, seeming unbeatable in title matches.
Amy Jo Smyth:
No one is unbeatable and nothing is impossible. I'm the challenger she needs to face and a test she can't pass.
CircleTV:
Compare yourself to the LAW Champion and tell us where you think she falls short, by comparison.
Amy Jo Smyth:
[Laughter] And give away my secrets? I can tell you this, I question her commitment. Expect her head to explode shortly.
CircleTV:
Should you defeat Roberts and then Camacho, is there anyone on the LAW roster you think holds a candle to you?
Amy Jo Smyth:
I can't answer that as it stands now. Competitors become very different when championships are around.
CircleTV:
Just as you have in your quest. Tell us, is there anything you'd like to add?
Amy Jo Smyth:
Just a little advice. If you want something badly enough, you can't ask for it, you have go out there and take that shit.
CircleTV:
And with that sound advice from "The Good Doctor" we thank you for your time and wish you luck at LAW 57!
[FIN]
---
This issue's centerfold features one half of the LAW Tag Team Champions, Katalina Star! Just as she has dominated the tag team division, she now dominates our pages as she forces us to submit!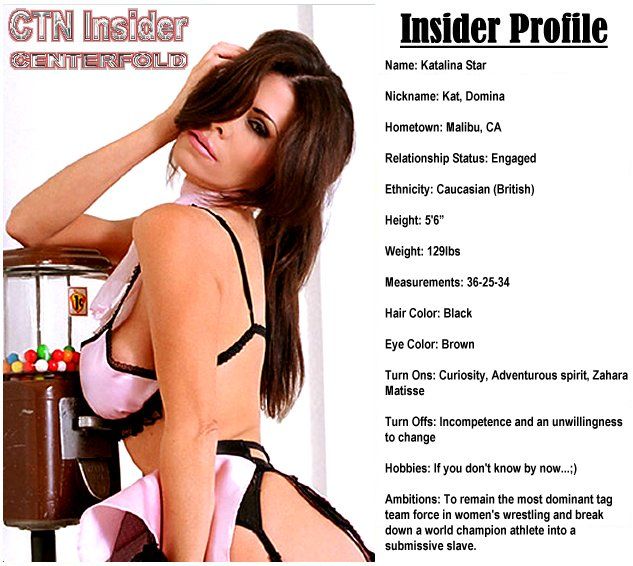 ALL THIS AND MUCH, MUCH MORE!