Post by lauraamberwilliams on Apr 6, 2015 17:52:13 GMT -5
OOC Information
Your Name:
Dustin
Best way to contact you: Please PM me here.
How you found L.A.W.: (I.E.: Roughkut, Twitter, ECT.)
I am part of 4 Corners Wrestling
Wrestler Information:
Name:
Laura Amber Williams
Nickname(s): Ms. Law & Order; Sweet & Spicy
Personality: Laura Amber Williams does have an ego but she sometimes can keep it check. Sometimes she speaks nice but she also talks with a very sassy attitude.
Gimmick:
Away from the ring, Laura is an accomplished police officer. According to her, she is a cop by day and wrestler by night. She will blend them together occasionally.
Pic Base:
Velvet Sky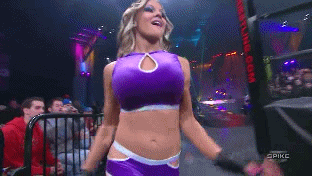 Height:
5'8
Weight:
138 lbs
Hometown:
Kent, Washington
Theme Music:
Shatter Me by Lindsey Stirling featuring Lzzy Hale
Common Entrance:
Pink, Velvet and Turquoise lights float around the arena as "Shatter Me" strikes up over the sound system. Laura quickly steps through the tunnel as the crowd are on their feet. She twirls once while swaying her hips like a hip hop dancer. She finishes the rotation by throwing one arm into the air while waving towards the crowd. She starts half skipping down the ramp as her song escalates. She jumps up onto the ring apron while shaking her butt for the live audience. She slowly kicks one leg through the ring ropes while leaning forward just a bit. She wiggles her butt some more before finally getting inside the ring. Once inside, she stands on the turnbuckle and gives the crowd one of her signature poses. She hops down while waiting for her opponent or for the match to begin (if she enters last).
Alignment: Neutral
10-15 Common Moves:
Baseball slide
suicide dive
front dropkick
leaping facebuster
running hair grab facebuster
tilt a whirl inverted DDT
hurricanrana
Super Hurricanrana
Springboard Clothesline
Russian Leg Sweep
Leaping clothesline
Sharpshooter
Trademark Moves: (3 Max With Descriptions or Video links)
001) Sugar Lips (Headbutt followed by a Reverse Full Nelson Suplex)
002) Sound the Sirens (Arm Trapped Reverse Arm bar)
003) Order in the Court
Finisher: (2 Max with Descriptions or Video Links)
001) Spice Bar
002) Law of Gravity
Manager Information: (If you don't have a manager, leave it blank)
Manager Name:
Manager Pic Base: